Tour Visuals for Seu Jorge & Rogê Concerts: NYC Winter Jazz Fest 2020 at the Townhall, UC Theatre (Berkeley CA), The Howard Theatre (Washington DC).​​​​​​​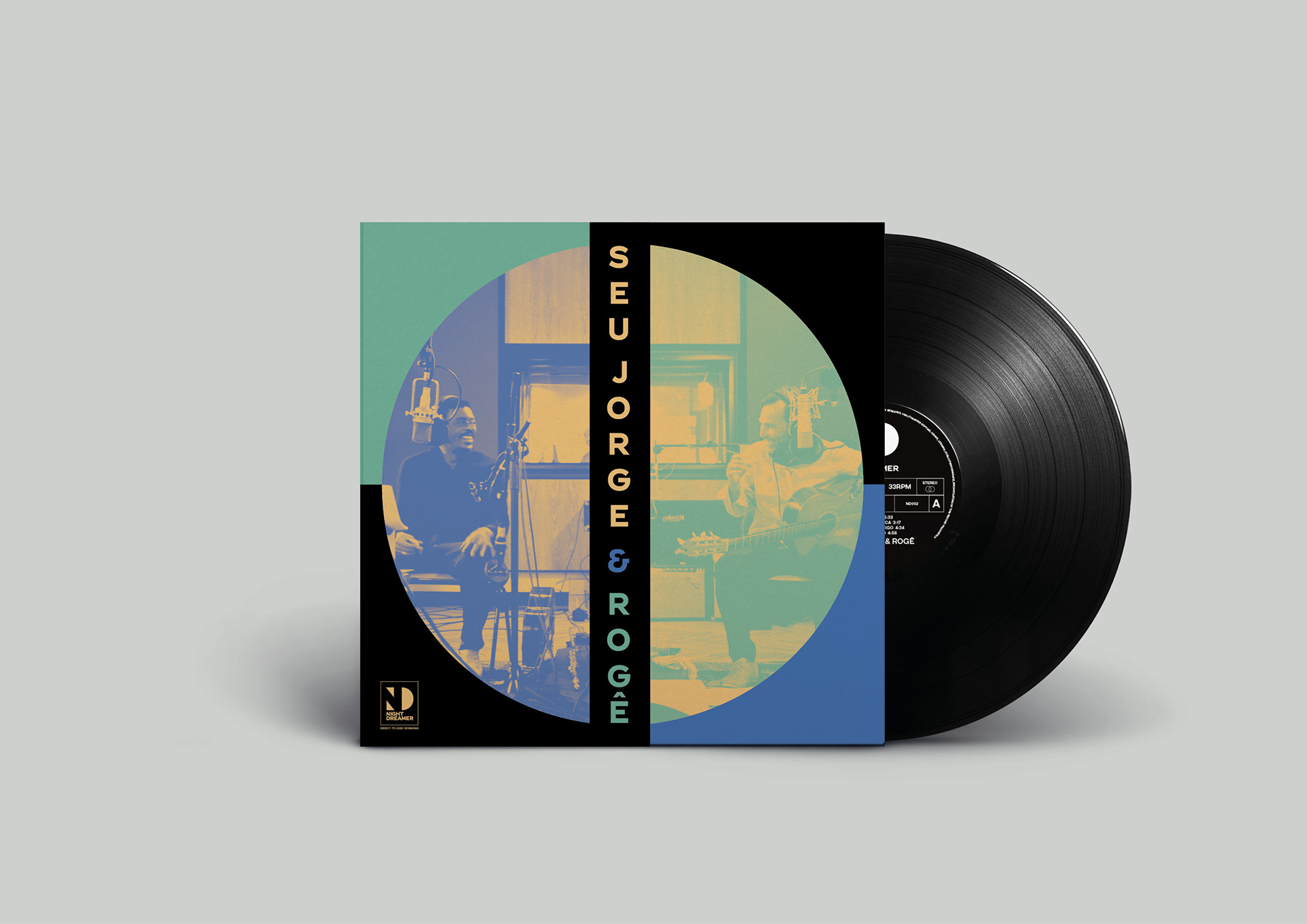 Cover Development Process

SEU JORGE & ROGÊ - DIRECT-TO-DISC SESSIONS FOR NIGHT DREAMER (Pre Order Now)
Brazilian singer, guitarist and actor Seu Jorge turns to brother-in-arms Rogê, for their first ever album recording, celebrating 25 years of friendship and companionship as part of the latest instalment on UK based, direct-to-disc record label, Night Dreamer.
Similar to his breakout album and Bowie homage, 'The Life Aquatic Studio Sessions', the new record is stripped back and raw but with an altogether different ambition - to create a 'classic Brazilian record'. Featuring both Seu Jorge and Rogê on guitar and vocals it also enlists the additional talents of two of Brazil's most sought-after percussionists, Peu Meurray and Pretinho da Serrinha. The seven original compositions recall the pairs plaintive and idiosyncratic melancholy and draws on the likes of Brazilian greats like Milton Nascimento, Gilberto Gil and Jorge Ben.
From Rio De Janeiro in Brazil, Jorge's success has been witnessed by close friend Rogê – a story which has seen Jorge go from humble beginnings in Rio to working with the likes of Beck and Bowie, and starring in major film and television productions. Well known for his acting roles in, 'City of God' and the current Netflix hit series 'Irmandade' (Brotherhood), it was Wes Anderson's 'A Life Aquatic' film that global audiences first saw Jorge on the screen performing as a troubadour strumming Portuguese-language covers of David Bowie classics. All in all, Seu Jorge has been a pioneering force in revitalising Brazilian popular music across the globe.
A songwriter, composer and musician in his own right, Rogê has received a Latin Grammy Nomination for 'Na Veia', his collaboration with samba legend Arlindo Cruz. With a strong catalogue of 7 albums and countless collaborations with Brazilian and international producers, Rogê represents the new generation of artists of the Brazilian Popular Music movement and has been instrumental in the pair building an archive of unrealised songs, sketches and ideas, some of which ultimately comprise the backbone of this session.
Like eavesdropping on a campfire session, the one-take direct-to-vinyl process at Artone captures the intensity of the duo's relationship, setting the conditions for an extraordinarily intimate recording.
From concept to completion in four days, the Night Dreamer session commits a lifetime of collaboration and companionship to record for the first time, encapsulated by 'Caminhão' - the first song the duo ever wrote together 25 years ago.

TRACKLIST

Side A
1 VEM ME SALVAR 3:16
2 MEU BRASIL 4:33 
3 A FORÇA 6:16
Side B
1 SARAVÁ 5:33
2 ONDA CARIOCA 3:17
3 PRA VOCÊ, AMIGO 4:34
4 CAMINHÃO 4:56
CREDITS

All Songs Performed And Produced By: Seu Jorge & Rogê
Bass, Fender Rhodes: Chavebeats
Cavaco, Percussions: Pretinho Da Serrinha
Percussions: Peu Meurray
Recorded, Mixed, Mastered And Cut By: Rinus Hooning & Martijn Schouten @Artone Studio, Haarlem 
Executive Producers: George Camdonius & Neal Birnie, Assisted By Carolina Rheinheimer
Photography: Elaine Groenestein
Sleeve Design: Kai Damian Matthiesen
Pressed And Manufactured At: Record Industry 
Special Thanks: Brisa Chander, Alex Birnie, Marina Oliveira, Ton & Mieke Vermeulen 
And Everyone At Recored Industry And Artone Studio
Recorded Live And Cut Direct-To-Disc At Artone Studios, Haarlem, The Netherlands On Thursday 22nd & Friday 23rd August 2019